The Financial Side of an RV Purchase
In a perfect world, we all would be able to just walk into an RV dealership, pick out the one we like, write a check for the purchase, and drive away. Of course, for most people, that isn't how it works. Even the cost of RV's today, most people will need to finance the purchase of the RV so they can pay it off over a period of time. While having to get a loan for your RV purchase might complicate the process a little bit, it shouldn't be too difficult to manage. As long as you have reasonable credit and enough income to qualify for the loan, most dealers or banks will be happy to work with you.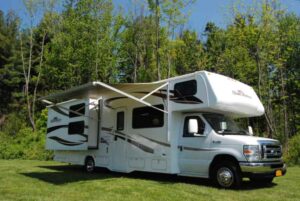 Before you ever step foot on an RV lot to look at the possible rigs you could purchase, you should have a very clear budget in mind. It might help to stop by your bank and ask about RV loans in regard to what terms they can offer, and what amount you could qualify for. This will give you a starting point for your budget, and also help you to determine what your monthly payments would look like based on the cost of the RV that you end up purchasing. Armed with this information, you can start to visit some dealers and work on finding the RV that is right for you and your family.
You've Probably Done This Before
Even if this is your first RV purchase, you likely have already bought a car at some point in your life. If so, the RV buying process will probably look pretty familiar. The process of getting a loan to buy an RV is very similar to that of getting a car loan, and you might even be able to work with the same lender. You will have the option of putting down as much of a down payment as you would like, although you probably don't have a trade-in like you may have when you purchased a new vehicle. Obviously, the more down payment you are able to put on the purchase, the smaller the loan you will need to take out. The lender will want to do a credit check, and will offer you terms for the loan based on a number of factors, including the size of the purchase and your credit history.
Understand the Monthly Payment Obligation
While it is important to understand all of the terms of your RV loan, the monthly payment number is one to pay particular attention to. If you aren't comfortable with paying back that amount each month, you shouldn't take on the loan. Go into the process with a firm limit on how much you are willing to take on per month, and don't exceed that number. The RV you are buying should be a source of fun and excitement in your life – but it will be more stressful than anything else if the loan payment becomes a significant burden.
Keep an Eye on Refinancing
After you secure an RV loan and make a purchase, keep checking in on the average lending rates from time to time. If they fall significantly from the time of your original purchase and are below the terms on your current loan, you might be able to refinance the loan and save yourself money in the process. Of course, there are usually fees associated with a refinance, so make sure that the overall financial picture of refinancing the loan comes out in your best interest. However, if it does make sense for you, it can certainly be worth your time to save money both on a monthly basis, and in terms of interest over the life of the loan.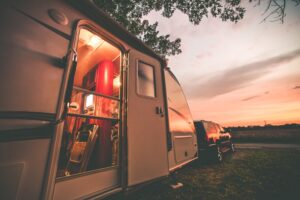 Being prepared before you head into an RV buying process is the most important lesson that you can learn. Know what kind of budget you have to work with, and what amount of monthly payment you are willing to take on. This will give you clear and defined targets and will help you to not get talked into something you can't afford by the salesperson. At the end of the day, the goal is to drive away with an RV that is perfect for you and your family, for a price that you are comfortable with.
This Blog was posted by Coastal breeze RV Resort in Rockport Texas